French Cup Final tonight Castres v Montpelier
At Stade de France
Castres the surprise finalists beating Racing in the semi.
Just a sign of the Club support :
Yesterdays Midi-O 22 page supplement :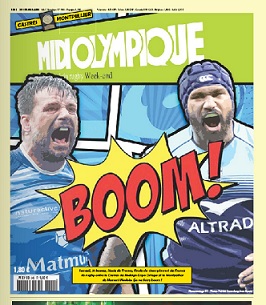 I live in the newly formed Region of Occitanie which now combines the Regions from Tarn et Garonne in the SW to the Herault/Roussillion oin the Med Coast.
The 2 major Regional newspapers that cover that area are La Depeche and Midi(Libre (Regional newspapers have big circulations in France ) Today they published a 16 pp joint supplement of the Final (both teams come from the new Region.
Examples :
[/url]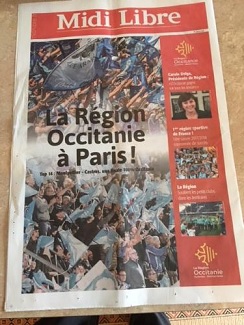 Castres is a small town popln 43k and near Toulouse.
but they get good support
Both semis got over 52k held in Lyon
and a sign of the the popularity of Club Rugby finals ...castres got 8K packed in main square to watch on big screen
Having said all that the 2 teams have v low french presence (maybe there's a message there as other teams e.g Racing that have a higher french presence have players that have more intensive schedules??
Cotter is changing Mop's profile and is recruiting a young french emement bottom up. He has also expanded the Mop game...it is still bludgeon but has increased kill too. They will be a big force in Euro rugby next season. They have Altrad the billionaire owner too.
Castres are relative minnows but punch above their weight, have an excellent coach and are dogged.
It ill probably be a slug fest with Mop winning well later??
Mop big player is winger Nadolo size 1.94m 135 kg...very difficult to stop, more guile and capability than his image but awful in defence!
His oppent wing is 1.88m and 87kg
Game is on Sky?
_________________
Easy to consider past and present, it's the future and associated plan and strategy to achieve that takes the talent ..