Top14 salary levels and some comparisons ..
Some Top14 salary levels and other comparisons …
First graphic shows :
Top salaries foreignes/French
Salary spend over 10 years
Highest Salary levels/clubs
Which position on average earns most
And
N Hemp league comparison of positions earning the most
And
Comparison of w/wide country rugby earnings average
(for the foreigners in N Hemp leagues and Japan and the Super Rugby provinces in general)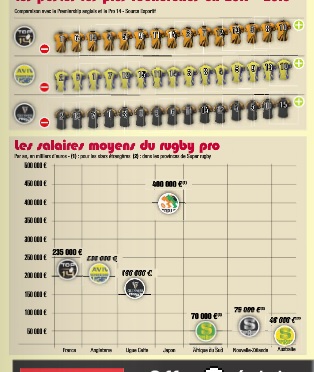 some other details
-20 year old U20 prop Brennan(never played in Top14) just signed for Montpelier for 10-12k monthly salary.
-17 year old Jamie Joseph has been signed by Racing fpr 5-6k monthly
-U20 internationals get about 3-4k monthly
The above are paid to try and ensure best juniors before they become eligible for Pro Contract under LNR rgulations
-The twitter following of the best international players w/wide have grown exponentially.
-In France the average League 1 footy salary is 73k/month, the rugby players are second in the list in general (Basketball 11k/month and popular sport Handball 7k/monthà)-Example ... the Teams are paid by FFR for release of players and the players in the disastrous recent SA tour got ..15k for getting picked for squad, 5k for match squad selection... in addition 3k per match win and another 30k for all 3.
_________________
Easy to consider past and present, it's the future and associated plan and strategy to achieve that takes the talent ..