Re: Manchester United The Rumbelows Cup winners 2017
Bouch wrote:

Man United's 50 man squad is being stretched a bit :-

Quote:

TEAM NEWS

Manchester United captain Wayne Rooney has been ruled out of the FA Cup quarter-final at Chelsea, leaving his side without a recognised striker.

Rooney collided with Phil Jones in training and misses out with a leg injury, while Zlatan Ibrahimovic begins a three-game ban for elbowing Bournemouth's Tyrone Mings.

Forwards Anthony Martial and Marcus Rashford [illness] are also missing.

10 defenders, 1 up front for the long ball and Jose will be looking to grab a win in the last 10 minutes then.
Manchester United came to play football for the first 20 minutes and at the end of that time they were chasing shadows as Hazard had started dissecting their defence.
1, 2, 3, 4, 5, 6 fouls later and the attacks on Hazard reached the point where the Referee spoke to one player at length.
The player moved away and another one took his place immediately - literally immediately.
However, the fool who clattered Alonso inside seconds of the restart had forgotten that he'd already been booked.
Exit Herrera at 35 minutes.
The referee was then surrounded by a cess pit of United players and, almost nose to nose, the referee was harangued for at least 30 seconds.
Mourinho was finally disowned by his shocked former fans last night and the chants of "Judas, Judas" were ugly indeed.
They weren't as ugly as the hack and slash assaults going on throughout the period of Hazard's bruising but the chanting was still ugly, even if thoroughly deserved.
United played football in the first 20 minutes or so and then in the last 10 minutes, as was to be expected.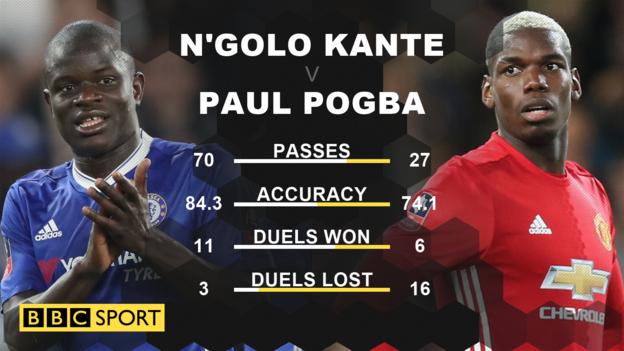 United amassed 28% possession
and had one clear shot at goal when their lone striker shot straight at the Chelsea goalkeeper after bamboozling the last defender.
Oh, and Mourinho and Conte had a spat as well. It wasn't a great game to watch as shooting-gallery football rarely is. United had more bookings than chances at goal and that was after the referee seemed to have lost his cards in the second half. One assault - which looked like stamping to the pundits - may well see another United player having an enforced break - bye Mr Rojo, that sneaky bit of thuggery on Hazard wasn't missed by the cameras.
That was the final disgrace for Mourinho; he had coached his side to hack and slash after failing to get an early goal and the bruised and battered Chelsea players also had a few lunges at United soldiers.
Diego was hauled off late on after being booked and the crass comments of the ex-Arsenal pundit were priceless.
So the expected win for Chelsea - it was 1 - plonk at the end, but could/should have been 4 or 5 in truth. Congratulations to the United goalkeeper who had a tremendous game, saving shot after shot. The only one that beat him was from Kante who was a bit good when compared to the invisible man. (See stats above)
Chelsea are now unbeaten in 12 games against United in all competitions (W7 D5) since a 3-2 home defeat in October 2012.