Another game of two halves as Chelsea overran the opposition for all but the last minute of the first half and should have scored at least 3 goals.
In the event they only scored one as United got lucky.
Eden Hazard was hacked down from behind by Jones and the referee gave Jones a yellow card as the blatant penalty was awarded.
A yellow card for a tackle from behind?? My, my …..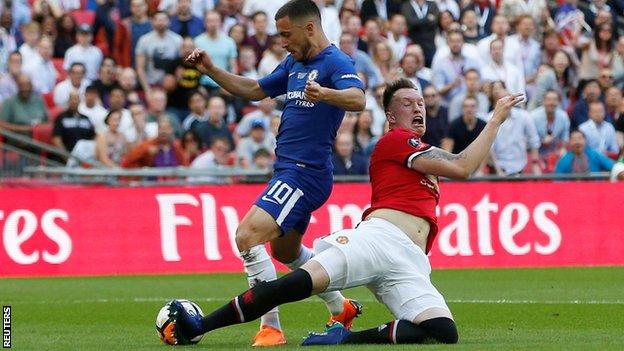 United improved in the second half but Chelsea weathered the shower and Eden Hazard was hacked down another couple of times, the new rule saving United's thugs - oh, and Giroud was head butted from behind by the man who should have been sent of for the earlier tackle from behind.
That ended Jones eventually as he came off worse in the clash of heads.
All in all, United huffed and puffed to defeat and Chelsea should have scored 3 or 4 goals and would have scored more than that if Jones and the other disgusting hackers had been removed.
Well done Chelsea, that was yet another trophy that was never in doubt for the first 44 minutes and the last 10 minutes of an accomplished performance.